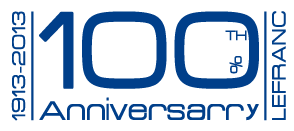 1913 : Company established in Calais by Mr Émile François LEFRANC as a machine shop specialising in the study, supply and mounting of power transmission systems.
Customers: Lace factories, mills, breweries, chicory kilns, etc.

1930 : Shop opens for the sale of power transmission systems.
First distribution agreement with the KLEBER Company to supply the « SOUPLEFLEX » belt. Business area: the CALAISIS (Pale of Calais) 1944 : Incendiary bombs destroy everything.

1954 : Mr Émile Félix LEFRANC rebuilds and manages the company.

1959 : First Customer-Supplier reciprocal agreement with BRAMPTON RENOLD, a Calais-based transmission and conveyor chain manufacturer.

1964 : Technological, technical and commercial business grows in the districts of BOULOGNE-SUR-MER, MONTREUIL-SUR-MER and SAINT OMER. The workshop is equipped with machines to assemble hydraulic hoses.
Customers: quarries, paper mills, cement works, sugar refineries, canning plants, glass works, etc.

1966 :Émile, Jean and Gérard LEFRANC create SARL LEFRANC (Limited Liability Company).

1967 : Creation of « LEFRANC DUNKERQUE ».
Business area expands to North coast and the province of Flandre Maritime.
Customers: ports, shipping companies, shipbuilding and ship repairs, oil refineries, oil mills, power stations, steel works, etc.

1976 : SARL LEFRANC becomes LEFRANC SA.
« LEFRANC DUNKERQUE » relocates to SAINT POL SUR MER

1978 : First generation computer systems.

1979 : « LEFRANC LILLE » opens.
Introduction of a NORD - PAS DE CALAIS distribution policy with AEROQUIP: LEFRANC RELAIS REGIONAL. New customer: machine manufacturers.

1986 : The LEFRANC Company joins other businesses involved in the cross-Channel fixed link.
Computer-to-computer links with SKF.

1988 : : Development of pneumatic technology.

1989 : Study and research on a QUALITY-based approach and interpreting ISO standards for use in our profession.

1990 : Commits to securing ISO 9002 certification.
Company's functional operations re-organised.

1991 : Participation in the Nord - Pas de Calais Inter-Company Partnership Regional Charter.
« LEFRANC BOULOGNE-SUR-MER » opens.

1992 : Development of sealing technology.

1993 : The LEFRANC Company becomes a founding member of the FAIR Group (France Approvisionneurs Interindustriels Régionaux - France Regional Inter-Industry Suppliers).



1994 : AFAQ certification recognising ETS LEFRANC SA's quality system compliance with ISO 9002 standard (n° 1994/3015).

1996 : « LEFRANC VALENCIENNES » opens, « LE PANETIER » at Saint Martin-Boulogne is built

1997 : Creation of an assembly workshop for PTFE flexible hoses.

1998 : The LEFRANC Company becomes a member and shareholder of the SOCODA Group.
Name, slogan and logo « LEFRANC-LE BON COMPOSANT AU BON MOMENT » (LEFRANC - THE RIGHT COMPONENT AT THE RIGHT TIME) officially registered.
Creation of the « ARTERE » brand
Website created.
ETS LEFRANC SA's social capital rises to 5,000,000 F.

1999 : Creation of Com'action M.C.C (public procurement framework contracts) and A.A (Sourcing and Procurement) units and corporate functions altered.
ETS LEFRANC's social capital rises to 1,000,000 €.

2000 : The LEFRANC Company adjusts its Quality Management System to fit the ISO 9001:2000 standard.
LTL (LEFRANC TRANSLATION LINEAIRE) workshop created.

2001 : ISO 9001/2000 certification.
The « ARTERE » flexible hose production facility opens at TRANSMARCK.

2003 : LEFRANC SAS established.

2004 : Partial transfer of assets from ETS LEFRANC SA to LEFRANC SAS for all commercial and production activities.
Capital rises to 5,447,000 €
ETS LEFRANC SA becomes C.G.M.F.

2005 : Introduction of a belt-cutting workshop at LEFRANC LILLE

2008 : ISO 9001 compliance (2008 version)

2009 : Creation of THORAX, ARTERE NORMANDIE and ATELIER PROFILES ALU (initially excluded from scope of certification).

2010 : Stability restored after the 2008-2009 global crisis

2011 : Supervisory Board established and chaired by Marie-France LEFRANC.
Claire LEFRANC-VAN RYSSEL becomes President of the Board of LEFRANC SAS.
Creation of ETS de LEFRANC ARTOIS and THORAX relocated to Courcelles-lès-Lens in October 2011

2012 : Introduction of a range of « Thorax »-compatible instruments managed by a technical specialist.

2013 : The LEFRANC Company launches a partnership with an electric motor manufacturer and supplier.

2013 : : LEFRANC Côte d'Opale established.

2014 : : Moving from LEFRANC Lille to Wambrechies.
LEFRANC LILLE becomes LEFRANC METROPOLE.

2015 : : Inauguration of LEFRANC SAS GULF in the JAFZA free zone in Dubai, United Arab Emirates.